Comparte
Each day more and more celebs and high-profile politicians such as Michelle Obama confess to have suffer from it at one point in their careers.
Impostor syndrome is feeling extreme doubt in yourself and wondering if you've earned the hat you have on, concluding you got there because of luck and the fear of others finding out about your "fraud".
The first study on the topic was conducted in 1978, by Pauline Rose Clance & Suzanne Imes of Georgia State University, titled "The Impostor Phenomenon in High Achieving Women: Dynamics and Therapeutic Intervention". Mentioned study describes Impostor Syndrome as a term used to "designate an internal experience of intellectual phonies", emphasizing on how it's more common in successful women.
"Certain early family dynamics and later introjection of societal sex-role stereotyping appear to contribute significantly to the development of the impostor phenomenon," it reads.
"Despite outstanding accomplishments, women who experience the impostor phenomenon persist in believing that they are really not bright and have fooled anyone who thinks otherwise."
But when Michelle Obama, who has openly spoken about the topic, stated that "Particularly for minorities, there's this feeling, like, because you have been told that you're not good enough, when you're in a room you're wondering how you got there", the word MINORITY came to my attention.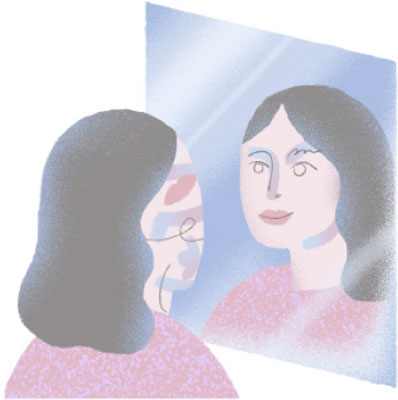 We tend to act like the role we have been given based on the categories we fit into yet this role comes with no instructions, and the closest we might have to a handbook are stereotypes and opinions. So, it really shouldn't take us by surprise that back then women were the ones "suffering" from Impostor Syndrome, but, how about today? This mentality is thought to be particularly prevalent in young people. A 2017 survey claimed that a third of millennials have it due to feeling intimidated in the workplace.
Although, Impostor Syndrome is not officially recognized as a psychiatric disorder, it does come with high levels of anxiety, depression and low self-esteem. Therefore, it is important to seek therapy and understand that it's more common that you think.
There are real impostors out there; the person next to you probably was told they belong there, and you were told you don't. But if you feel a bit of Impostor Syndrome, most likely you're not the one faking. And if you are, should it be shamed to "fake it till you make it"? As cheesy as it may sound, you have to believe in yourself. Your thoughts matter and thinking otherwise is a waste of time.
Thanks for reading. Until next time!
IF YOU HAVE ANY TOPIC YOU'D LIKE ME TO TALK ON MESSAGE ME
Comparte