Comparte
By the time I'm writing this article, the FBI has found what seems to match Gabrielle Petito's body. Her fiance, Brian Laundrie is yet to be found and is currently viewed as a "missing person". Brian's house is now, part of the crime scene and the entire country keeps refreshing the news to dig for more information about the now homicide case.
Petito's Instagram is about to hit 1 million subscribers and Brian has a drastic amount of followers as well, some of them even commenting how "in love" they are with him.
This whole story makes me sick and of course, we want to see justice for Gabby.
Before the body was found many searched for clues that actually did help in the investigation.
The fact that we've been able to see this entire story develop in real time on every screen makes us feel a part of it, almost as if we knew her. We feel for her.
In a time where social media helps us illustrate this story with such detail, it's come to my attention the many stories that aren't being talked about.
I personally care about this case because Gabby Petito seemed to share a dream that many of our generation has, and, maybe she wasn't as different from you and me: She lived in America, she had a phone, access to the internet and, social media.
I don't feel like the media is giving this story in particular extra attention because of a skin color "privilege" as many have said (although it should be taken to consideration). But, truth be told, we all are pretty privileged simply because of the factors I mentioned. Think about it, how much On- Air time have they given to the Haitian migrants?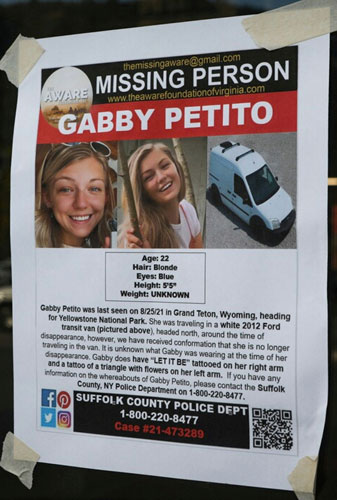 Are they American? – No. Do they post on social media? – No… Do people care as much?
Don't trick yourself. We care more about our own before carrying in a more humanistic way. I'm not sure if it's a bit of patriotism that kicks in or what it is but we care more about residents of our country.
Now, other Americans are also missing, and the effort to find them can't be compared. I moved here thinking maybe I would go missing given the high crime rates in my country, and this whole story made me wonder if having a Youtube Channel and an Instagram full of selfies will make the FBI think I'm relevant enough to search for so, if I go missing, please, do make me viral.
Comparte