El Aviso Magazine got an opportunity to interview Rosa Peart, one of the producers of the movie "The War With Grandpa". Peart tells us everything about the production of this fun, family oriented movie you must watch. "The War With Grandpa" is available now to watch only in theaters.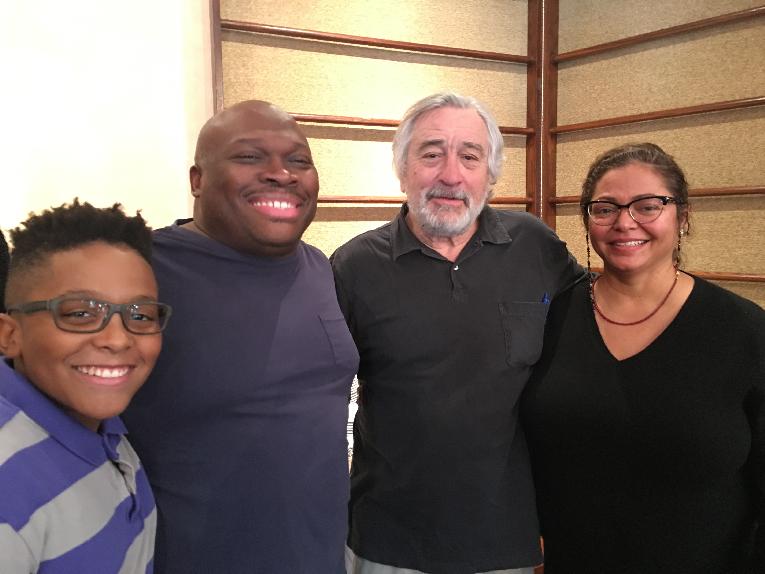 El Aviso: Hi Mrs. Rosa Peart, hope everything is going well for you. Thank you for your time and interest to answer the following questions for El Aviso Magazine, a Spanish magazine in southern California.
Rosa Peart: Thank you for highlighting my story!!
El Aviso: What was your first reaction when your son approached you to tell you that he wanted to bring to life a book that he enjoyed reading?
Rosa Peart: At first, I was helping him find the movie. We had a rule that you first had to read the book if you wanted to see the movie. So naturally, he thought that all books had a movie so when he couldn't find it, he was very adamant that it should be a movie and he convinced me to read the book. I read the book and agreed with him. We convinced his Dad and here we are with a movie with an all-star cast!
El Aviso: How was it to produce a movie with your family?
Rosa Peart: It was a great adventure for us. Our home was in Atlanta GA for 3 months – no cooking for me! LOL.
El Aviso: Did it get complicated at a given time?
Rosa Peart: Not at all, it was actually easier to have the whole family together. It eliminated the stress of having the kids in another city and not being able to see them on a daily basis.

El Aviso: Please tell us about the biggest challenge you faced as well as the most rewarding experience about working with your family in this movie?
Rosa Peart: The biggest challenge for me was the credibility factor. By being a female, Latina and a producer's wife, it was tough not being overshadowed. The most rewarding was seeing this film through.

El Aviso: We know the movie is based on the book "The War with Grandpa", but how did you managed to make it fun beginning to end and even make us drop some tears too?
Rosa Peart: It was through the great writers Ember & Astle, the Director, Tim Hill, and Bob. It was important for all of us to keep the heart of the book which Robert Kimmel Smith created so well.

El Aviso: This is a movie we must watch with our loved ones for all the family values it carries throughout the movie. Is there one in particular scene that stands out or that you believe we have in common as Latinos?
Rosa Peart: No matter our differences or arguments that we may have with our families, family bond prevails.

El Aviso: Can we expect "The War with Grandpa II"? It seems like Peter is not too happy with grandpa dating a woman and based on what we saw in the movie, he won't stay still.
Rosa Peart: HAHA.. That's Peter for you! We are working on the sequel.

El Aviso: Can you share with us your biggest satisfaction producing this movie?
Rosa Peart: Working with such a dream cast and crew, Robert De Niro, Christopher Walken, Uma Thurman, Rob Riggle, Cheech Marin and the kids were so talented and spectacular. The Director, Tim Hill and the whole crew. It truly was a great set!

El Aviso: What did your son Tre tell you after he watched the movie and was able to see that his dream came true?
Rosa Peart: He was involved with the process from a-z. It was important for me to show and educate him on the process of movie making. At the end of it all, he was very proud and happy that his vision was realized.

El Aviso: Why is "The War with Grandpa" a movie we all must watch?
Rosa Peart: While we are living in such an unprecedented state, this movie gives us an escape from the reality and we can all enjoy it with all the members of our family in a safe way.
Siguenos: